Provide your customers with a
faster

and

safer

service

.
Eliminate

Point of Sale Costs

.
Reduce

staff overheards through automation

.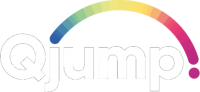 Qjump is a QR code ordering and payment service that enables social-distancing safety in food service outlets. Qjump was originally developed to minimise the inefficiency of ordering and payment queues in quick-service outlets.
bars​
take-aways
fast-food outlet
coffee shops
sandwich bars
food-trucks
kiosks
market-stalls
quick-serve restaurants
Serve your customers safely & efficiently
Contactless ordering and payment service for your customers from anywhere inside or outside your venue.
Customers can view your menu, order and pay by simply scanning a QR code. No Downloads, no App.
Operate efficiently while complying with 'stay safe' ordering, waiting and seating policies.
Unique QR codes at different locations within a venue can create additional order collection or delivery points.
Customers snap a displayed QR code, order and pay. SMS alert to collect.
Customers order and pay safely from their table, parking bay or any designated 'serve to ' location.
Reduce queuing and waiting in public spaces without compromising service delivery.
Getting Qjump set up is simple and quick, no upfront costs and no service period commitments.
TECHNOLOGY FREE INTERFACE!
Designed for business users that don't have computer science degrees!
Use Qjump to have greater order & payment point flexibility during COVID-19 social distancing restrictions.
Getting started is simple.
Sign up & create an account
Generate your unique QR codes
Set up billing & payment details
Print & display your unique QR codes
You are live and ready to take Qjump orders
Qjump venues enjoy no lock-in contracts, no hidden fees, and no software costs.
Benefits of Qjump to your business